Varese - Specialized Assistance on Brazil - November 11,2007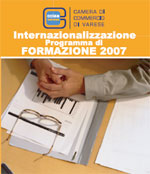 The Chamber of Commerce of Varese, Lombardy, in collaboration with Unioncamere arranges for Thursday 8 novambre (congress center "Ville Ponti, 14.30) a meeting dedicated to Brazil.

The Development Agency of Northeast Brazil was present with President Antonio Ferrara as coach of the decoding of investment opportunities in Brazil.
Specialistic assistance is to provide answers through direct contact with experts / specialists on topics of nature finance, corporate law, tax, customs, administrative and logistics, as well as to inform on  the search for partners and international insurance.