Milan - The North east of Brazil that is not yet know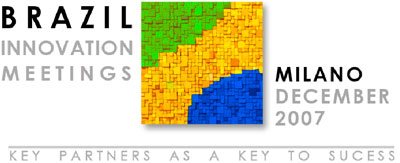 The Ceará and Maranhão present innovations and opportunities in the Chamber of Commerce of Milan
Italian Few companies have been able to take advantage of the immense potential of shops in the State of Ceara. Those who have tried have been highly successful . With the aim of portal the necessary knowledge so that investors have the same results in Italy , the Euro Brazilian Council of Sustainable Development ( EUBRA ) realizes 4:05 in the days of December in the Chamber of Commerce of Milan ( Italy ) the meeting Northeast Brazil - Italy innovations and opportunities.
The idea is to develop strategies to promote and partnership between Italy and Ceará, which contribute to the fortification of the two economies , for the generation of uniforms, work and a new model of sustainable production. Among the participants there are , the Government of the State of Ceará, Maranhão State Government , FACIC , Air Italy, SEBRAE -EC -MA IBAMA , Gran Meliá Marquise , Chamber of Commerce of Milan / Promos Brazilian Consulate - Milan, CEART , ABAV .
During the meeting , Italians and people from Ceará will be able to change information on their investment opportunities , tourism and cultural undo steriotipi . Extend the shade of bilateral and present programs to support small and medium enterprises who wish to settle in the State of Ceara. In this sense, the EUBRA and SEBRAE -EC will be present to interested parties and to inaugurate a permanent channel of dialogue relating to governmental programs of support, credit facilities , tax incentives and general information .
During the meeting, the project will also be launched Floresta Móbile - that introduces a new model of design , production and international marketing of furniture and decorative objects made ​​from renewable waste - and " TOURISM MUITO LEGAL" - The program of cultural diffusion , tourist , shopping and entertainment venues in Italy , Ceará and Maranhão . At this time , the secretary of Tourism will launch yet more motivation programs to tourism in Ceará . To conclude , there will be the launch of the regular weekly flight of the airline Air Canada , which will make the direct route between Fortaleza (CE) and the various Italian cities such as Rome and Milan.

The oportunity for small , average and large businesses . The Ceará still has potential economic and tourism unknown to many Italian entrepreneurs. Here are the investment opportunities and information that are posting in the national and international market .
Shoes: According to the Brazilian exporter - exports three times more than São Paulo.
JEANS : Two of the biggest suppliers of indigo fabric of Latin America are in Ceara ( Vicunha Têxtil and Santana ) , providing local shops that produce Centene of small , medium and large national and international brands - including those DIESEL JEANS, ARMANI , DONA KARAM , here are exporting to several countries .
Furnitures : The export of Ceará furniture and ornaments of the aggregate value grows above the national average. It is one of the areas ideal for meetings between small and medium-sized Italian companies , as well as suppliers and distributors furnitures and ornamentation .
Design: Um new design concept based on the production and environmental responsibility is taking place in the State of Ceara. The program FLORESTA Mobile, done by ECONEXUS , create advanced convention between Italy and North - East of Brazil and the Estado must transform into a prodottore of global trends in decrazione of inner and crafts, with influence in other areas prodottivi , such as fashion , packings and appliances. For those small and medium suppliers and distributors of Italian furnitures , this new concept will contribute to the authoring of conferences global.
Fashion : Fashion Ceará is ragiungendo space nationally and internationally, with some very creative and innovative designers . One of the most professional detachment is Villaventura Lino , who has become an icon and earned the gratitude Brazilian international since 2005.
Leather : The Italian group Mastrotto here produces the leather used in the seats of the European car brands Audi and Mercedes .
  Tourism: The State of Ceara receives nearly two million tourists a year , it is indeed a paradise for those who love adventure sports , adventure and entertainment. Many Italians have got otimi results with investments in small cutlery , restaurants and cyber caffee .
Roses and tropical flowers : The Ceará is the largest exporter of roses in Brazil and the second in flowers.
Coffee: ecological product possesses excellent coffee under the shade of native forests .
Fruits: According esportator of Brazil.
Shrimp and Lobster : Export Brazil's largest .
Energy: The Ceará has one of the greatest potential for solar, wind and bioenergy in Brazil.
Information Technology : Companies linked to national and international Universities Federal, Estatali Istituizioni and private teaching of sulperiore produce innovative technologies and produti . A technology center is being formed in the state.
Cultural industries : The State of Ceara possesses a strong and diverse musical production at the beginning of internationalization , as well as beautiful manifestations of popular culture and important production of plastic arts and regional crafts .
Infrastructure - The state of Ceará has a large highway structure , 2 ports with great depth to the shore, an international airport and several regional industrial districts 3 and excellent distribution of water and electricity in urban areas.
Attraction of enterprises and investment : The state offers various incentives for businesses that want to settle down here . Many credit programs officer, isenzione of imposed disponibilizaçzione of land and infrastructure , among other incentives , continuno attradendo many companies in the South of Brazil. Leaders in the field of steel , shoes, plastic , tourism, flowers and fruits have moved most of its production facilities and for the State of Ceara. This is currently happening with the Italian companies and other country.
Attend the Meeting Brasil - Nordeste de Inovação and Oportunidades , between 4:05 December in Camara of Commerce of Milan. Get in touch with the important governmental managers and impresarios of the Northeast . The SEBRAE -EC 'll be there to guide and apoggiare small and medium Italian businessmen interested in organizing conferences and investments in Brazil.