Florence - Speaker Brazil Festival of Creativity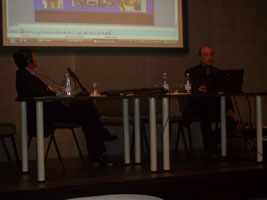 We were prensent as relatior of the conference "Trade between Italy and Brazil: the case of environmentally sustainable design in the states of Maranhao, Ceara and Piaui.

It 'was an important occasion to meet again the Governor of Piaui and organize the planning of joint development with Piaui.
This year the Festival of Creativity in Florence, held in the capital of Tuscany October 23 to 26, is dedicated to Brazil, a country with music, dance, visual arts, design, architecture is its full creative power and his optimism realistic, transforming the country into one of the most dynamic centers of social and economic development of the world.

The President of the Federative Republic of Brazil, Luiz Inácio Lula da Silva has sent a message expressing satisfaction and pride in seeing his host country of the Creativity Festival in Florence.

Below is the message sent by the Brazilian president:

It is with great satisfaction that Brazil participates as guest of honor at this festival that celebrates one of the most precious commodity of our people: the creativity. The Brazilian becomes creative when the clay in the simplest crafts. But when he develops the most advanced technologies, such as those that now provide the country the world leader in areas such as oil exploitation in deep waters and the development of biofuels. The fact is that Brazil is now beginning to be known throughout the world as a country that keeps itself in many cultural riches, as well as samba and soccer. These fields of expressing our creativity fills us with pride and joy, but the fact is that in the beginning of the XXI century, Brazil is no longer the eternal "country of the future."

Music, dance, visual arts, design, architecture, audiovisual - fall in the creative industries - continue to occupy a privileged place in our imagination. But the creative power, fighting spirit and optimism of the Brazilian realist stranno transforming the country into one of the most dynamic centers of social and economic development of the world.

We are helping humanity to address some of its key challenges such as underdevelopment, the food crisis, the urgent need for alternative energy, climate change, and especially the fight against poverty and hunger. And so that everything would become reality was necessary to find political solutions, economic, administrative and technology that were not in the manuals and who had no parallel in our own history or the history of other peoples. It was necessary, above all, strengthen the democratic experience of a people unique in finding unique alternative, capable of converting the injustices built over five centuries of history.

It is for us, therefore, a special honor to show a little of Brazil at this new fellow of Galileo Galilei, which pays tribute to this great figure Festival. We do also as a form of thanksgiving, in the end, the Italians have contributed - and help - in an extraordinary way to the construction of our country. Million Italians and descendants have served their workforce and their talent to the country that welcomed them with open arms - and they helped to form. And still today continue to build a country where the encounter between cultures does not generate conflicts, but our greatest treasure cultural diversity.

Luiz Inácio Lula da Silva
President of the Federative Republic of Brazil